The Whiteville City Council is comprised of seven elected officials including the mayor and six council members.
Regularly scheduled city council meetings are held every 2nd and 4th Tuesday of the month. All meetings are conducted in the Council Chambers at City Hall, 317 S. Madison Street, Whiteville, N.C. at 6:30 p.m.
The Whiteville City Council serves staggered four-year terms in two municipal districts. Municipal elections in North Carolina are held in odd numbered years.
The Mayor serves a two-year, at-large term. Any voter that lives within the jurisdiction of Whiteville may file for the office of Mayor, and all voters of Whiteville may choose to cast a vote for candidates running for this office.
The Whiteville city council adopted a public comments policy on June 28, 2016, for its public comments period as announced in their regular scheduled meeting agenda. Click below to read the complete policy.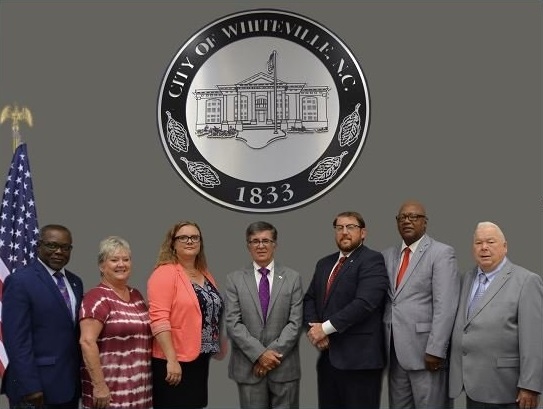 Whiteville City Council -  Left to right:  Jimmy Clarida, Vickie Pait, Helen Holden, Mayor Terry Mann, Kevin Williamson, Tim Collier, Emory Worley.